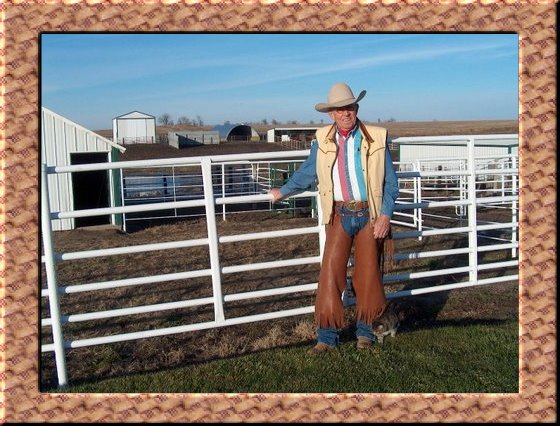 Welcome to Rockin' Diamond Quarter Horses!
We've been raising quality horses for about 35 years, and though we aren't new to the horse industry, you may have just found us on the 'net. Please feel free to take the 'net tour of our place using the links at the tops of our pages, and then come visit us in person soon!
We are Everette and Betty Lee of Bedford, Iowa. We have been raising and showing horses for many years, and have been active in the horse industry in other ways as well. Both of us have judged at Open and Association shows, from queen contests at rodeos, to mule shows such as the Iowa State Fair Mule Show and Montana Mule Days' 3-day show, to the Boone County 4-H Fair and other 4-H fairs.
Though we truly love and savor every minute we have to just trail ride or pleasure ride, we have been very active in showing our horses for most of our careers. We have shown a number high-point year-end horses in association shows, have sold horses that have successfully shown for others (winning the Arizona State Fair 2 y/o Snaffle Bit, and Iowa State Fair Snaffle Bit). One of our horses is in Ft. Lauderdale, FL consistently winning in open shows. One of ours is in Spain and is winning in shows over there. We sold a horse who earned 11 grand championships out of 13 shows and earned his ROM in halter for his new owner. A former horse is a cutting horse now who earned 4th place at the Ft. Worth Stock Show. For almost 10 years, we placed in the top 7 or 8 out of around 40 to 45 foals in the state Appaloosa futurity.
Our horses aren't the only livestock on the farm! We have a few ponies, boer goats, and Livestock Guardian Dogs (LGDs).
So, you can see that we've been around the block a bit. And you know what?
It's been a great ride! Come join us!