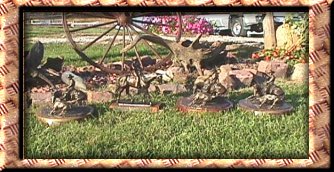 Some of our NCHA and Snaffle Bit trophies
We've been raising, showing, and enjoying horses for many years, and have helped get quite a few customers started on the same successful path. Whether you intend to show or just to enjoy your Rockin' Diamond horse at home, you'll be glad you allowed a Rockin' Diamond horse into your life.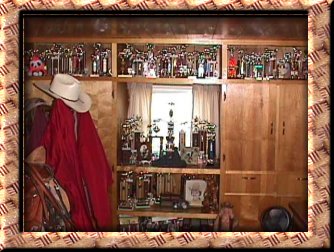 Some of our trophies from showing
For those of you who have Rockin' Diamond horses, we encourage you to share your successes with us. Maybe we'll be able to post them on our page here for others to see. For those of you just browsing, please enjoy viewing our pages. And, of course we hope you'll contact us soon to let a Rockin' Diamond horse into your life or onto your show string!
We're proud to have played a role in these (and many more) successful show careers:

Lees Zippo Chocolate

| | |
| --- | --- |
| | This bay roan filly was born March 23, 2011 sired by Chips Hot Chocolate. |
| | A double bred Zippo Pine Bar filly that also goes back to Sonny Dee Bar. |
| | Her granddam Miss Tami Jay Bar was a great trail mare, and one that any one could enjoy. |
| | Her half sister is one of Joyce Kruse's trail mares and I tried to buy her back, but I didn't have enough money. |
| | She is a super pretty bay roan with a gorgeous head and very correct, as pretty of a mover that I have ever raised. |
| | This filly sold at the 2012 AQHA Congress and is headed to New Jersey to begin training for her future show career. |

Taylor Made Zippo and Katie P.

| | |
| --- | --- |
| | 1999 Iowa Quarter Horse Youth Assn. High Point Novice Youth! |
| | High Point Novice Youth Showmanship at Halter |
| | High Point Novice Youth Hunter Under Saddle |
| | High Point Novice Youth Western Pleasure |
| | High Point Novice Youth Western Horsemanship |
| | Sired by our Mr Gladiator |

HOT RED RODDER
RED ROAN MARE
Full sister to Hot Roan Rodder, our stallion

The majority of AQHA judges who have seen Rosie have commented on how nice of a mover she is and how they would like to take her home. My Daughter Leanne is an excellent hand on a horse so I must give her credit for bringing out the best in this outstanding mare. This mare started being showed exclusively at AQHA shows on June 23, 2001.

AQHA YOUTH CHAMPION - OCTOBER 4, 2002 (completed in 24 shows)

Register of Merit at Halter

Register of Merit at Performance

Circuit Champion at 2002 Minnesota Masters Region 4 Quarter Horse show in Youth Halter, Western Pleasure and Trail.

Thanksgiving Classic Circuit Youth Champion All-around Brandon Manitoba on October 12 - 14, 2002.

Ten Grand Champion Youth Mares at Halter

Thirteen Reserve Champion Youth Mares at Halter

Second Place finish in Youth Western Pleasure Futurity - Brandon, Manitoba

Sixth Place finish in Open Western Pleasure Futurity - Thunder Bay,Ontario

Third Place Open Western Horsemanship Futurity - Dryden, Ontario

Hot Red Rodder earned her Register of Merit in Performance in Open classes

Open AQHA Performance points - 1.5 in Halter, 2.5 Trail, 1.5 in Hunter under Saddle and 6 Western Pleasure points.

Amateur AQHA points -2

Youth AQHA points - 22 Halter points and 22.5 Performance points. She has 7.5 Trail, 10 Western Pleasure, 1 Hunt Seat Equitation, .5 Showmanship, 1.5 Western Horsemanship and 2 Hunter under saddle points.

Hot Red Rodder and Leanne were the High Point 14
to 18 All Around and High Point Open Senior Western All-around for the three
day show in Thunder Bay, Ontario in 2003

Hot Red Rodder and Leanne were the 2003 Youth All around Hi- Point Award for the Province of Manitoba for Out of Province competitors
2009 Update:
Everett

August 7th weekend we took Hot Red Rodder out of the pasture, Leanne rode her about 5 times the month leading up and won the Western Pleasure in Amateur and Senior horse on the Friday. She won the Showmanship stakes class and Trail.

Gary

In 2007 we sold the Jordans Red Baron Rodder, a 1/2 sister to Hot Roan Rodder. This 95 mare had produced some good babies for us also. This is a colt by her and Rock With A Zip, a Superior Pleasure stallion that is a Paint with Zippo Pine Bar and Sonny Dee Bar bloodlines. They sold the colt before it was weaned and the new owner is going to start showing it.
Dear Everette and Betty

Thank you for helping me find my mare "PHS Easter." I have been competing on her at Junior Rodeos and have Won my first around saddle . She is an awesome Barrel and Pole Horse and my father even Team Ropes off of her. I am currently sitting 3rd in barrels at the Iowa Wrangler Junior High Rodeo Association and I won the Champion and Reserve Champion Barrel Racer at the S Bar S Junior Rodeo series with her help the last 2 years.

She has truly become part of the family. Thanks so much for all of your help.

CJae

| | |
| --- | --- |
| | This a filly that we raised in '02 and sold to Mr. Myron Glasnapp of Sac City, Iowa |
| | She is winning in Halter and Lounge Line all over NW Iowa |

Snaffle Bit Champion

| | |
| --- | --- |
| | 1991 2 Year Old Snaffle Bit Futurity Champion, MAHA |
| | Winner of 4-River 2 Year Old Snaffle Bit Award |


NCHA/MWCHA trophies

Halter, Lounge Line, Cutting

3rd in her halter futurity as a foal
1st in Yearling Lounge Line
1st at Iowa State Fair 2 Year Old Snaffle Bit
6th at the 2 Year Old Midwest Snaffle Bit Futurity out of 30+ in the class
Won the Super Horse award as a 2 year old
Won the 3 y/o Midwest Cutting Futurity (NCHA) in 1999 in Des Moines
6th at the Iowa Open Cutting 3 Year Old Futurity (NCHA) with 40+ in the class
Won the Super Horse Award in the cutting division of MWCHA as a 3 y/o
Won the Open Cutting (all ages) in 2000 for MWCHA
Won the Youth for MWCHA with a novice rider (his first cutting)

Two Geldings

AQHA Incentive Fund earnings, lots of show success!

Another

customer:

Dear Everette,
I just wanted to thank you so much for Lacey!!! She really is a great horse!! We are showing in halter and pleasure. Lacey And I have really become best buds. I just wanted to thank you so much for her. She really is my dream horse.
Kayla R

An new

customer:

We sure would like to thank Everette and Betty Lee for selling us Zippos Little Bess, a 6 year old registered Appaloosa mare. We bought her for our 9 year old daughter to start her show career and boy what a start! She has consistently placed in the top three all summer in the 4-Rivers Show Circuit. A Circuit that covers Southern Iowa, Northern Missouri, and Eastern Nebraska. Bess has been a great fit for Kaley with her great looks, quiet disposition, and willingness to please.

Another rider (who has some more experience) is also showing Bess. Michelle Eischeid, who is the 2001 Grand Champion Pleasure winner at the Iowa State Fair, has shown her in circuit shows. Michelle and Bess have won first place every time out.

Thanks again, The Folkerts

Another

customer:

Dear Mr. & Mrs. Lee-

In December we purchased a 2005 roan filly by your stallion Hot Roan Rodder, out of a mare named A Fixed Conclusion, who you also used to own. She is with our trainer, Stan Patton of Monett, MO being started under saddle. We are in Champaign, IL which is 8 hours from Stan but we wanted to make sure she got a good start, which is why she is over there. We took her to her first show this past weekend, in Carthage, MO. It was freezing cold, but our Janie never batted an eye at anything. She is one of the most well behaved two year olds I've seen, and certainly a credit to your stallion. She placed 2nd in halter, 2nd in 2 yr old longe line and 2nd in in-hand trail both days, out of 5 horses. These were open classes at a Buckskin show, her first AQHA show will not be until July. We'll be showing her again at a Buckskin show the end of April in Columbia, MO and by then I'll be showing her under saddle. If everything goes as planned, she will do 5 or 6 AQHA shows this year, and then we'll be hauling a full AQHA show season for 2008, starting in February and she will be going to the Quarter Horse Congress in October of 2008. I just thought you might be interested to hear about her and see what she looks like. I can send more photos as she progresses if you would like. We didn't get very many from this show, due to a camera malfunction (probably caused by the cold!). Her registered name is Roll Yer Roan, but we call her MaryJane (Janie). The judges could not stop talking about her! One of the judges was AQHA Professional Horseman Jeanne Dial, and after the show she came up and told me that when Janie moves, "it takes your breath away". I have had a lot of show horses in my lifetime, but I think my Janie is the one that will make my dreams come true.

Sheree S

Update, October 2007:

Roll Yer Roan (Janie) who is by Hot Roan Rodder. Please excuse the fact that her ears are not too perky, she was pretty tired by the end of this show circuit. This is from her very first AQHA show, we won the Novice Amateur Showmanship and got 2nd in Amateur Showmanship, earning a total of 1.5 points. Not bad for her first time in showmanship.
For our Land of Lincoln Quarter Horse Assn year end, she finished 4th in Open 2 Yr Old Mares, 4th in Amateur Jr Mares, 4th in Non Pro Walk Trot, 10th in Amateur Showmanship, and 10th in Novice Amateur Showmanship.
For Illinois Quarter Horse Assn year end, she finished 8th in Open 2 Yr Old Mares, 9th in Amateur Jr Mares, 8th in Non Pro Walk Trot, 12th in Amateur Showmanship, and 12th in Novice Showmanship.
Most of these points were earned in only one show, if that tells you how well she did.
We couldn't be happier with Janie, if everything goes as planned, we will be sending you Congress (and maybe World Show!) pictures next year.

Here is my mom after showing at her very first horse show ever. She led Janie in 3 yr old mares. She had a great time and will be showing her in halter again next month at Gordyville. Hopefully we will have her doing walk trot by the end of the year!

Sheree

http://www.youtube.com/watch?v=YYkST1LK3rw

Here is a picture of Janie and me with our barnmate Laura and her gelding Charlie, and our trainers Bruce and Debbie Prather. Janie had just gotten her first western pleasure point! This past weekend we were circuit champions in the novice showmanship and Bruce put 1/2 point on her in Green Western Pleasure.

Sheree
Dear Everette and Betty

We couldn't be happier with Doc, the son of one of your stallions we bought a couple years ago. Thought we'd send you a picture of him even though it is just at home in the arena. We have taken Doc to many rodeos, where he's gotten a lot of attention both as a heeling horse and as a flag horse for Mike.

This horse is so athletic...he could do about anything. It just goes to show how versatile the bloodlines you have are. He is not only perfect in conformation, but he wants to work and loves cattle.

Keep up the good work in your program...we're sure enjoying the two we bought from you!

Jacque Lenhart

C

Jae Lenhart, riding "Betty" at the 2009 National High School Rodeo Finals, Farmington, NM. Betty was purchased from Everette and Betty Lee a few years ago and has continually proven to be one of the top high school barrel horses in Iowa.

We are so HAPPY for Anna Carlson and Im Pretty Shi a 98 red roan mare that she bought from the Rockin Diamond last fall. They won 1st place in a western Pl. at the Page Co. 4H fair Thur. at Clarinda Ia. There were 13 horses in her class and Anna did a great job of showing her !!

2010 Update: Another win! Ann just won Grand Champion Mare and won 1st in the Jr division in western pleasure on 7-22-10. Congratulations!