The Junction Café

712-523-2454
We have sold the cafe. Best of luck to the new owners! Please stop in and support them in their new adventure!
Article Written For Our Iowa Magazine
By Lynn Betts
Strawberry Shortcake Deluxe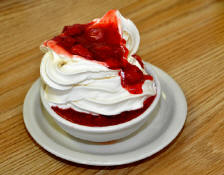 DREW CUSTOMERS FROM NEAR AND FAR­––STILL DOES!
The Junction's large strawberry shortcake, featuring soft-serve ice cream,
built the business years ago as a daily give-away. It's still a favorite today.
Homemade ham balls, the old-fashioned chicken platter, the Junction burger and the Friday night fish fry are all favorites at the Junction Café. But what really makes people's mouths water is the large strawberry shortcake, the dessert that launched and built Everett and Betty Lee's restaurant business.
"Betty was laid off from her sewing job. I was selling feed, but I could see that business was changing, too. So we thought we could take advantage of the restaurant experience we both had and bought the restaurant in 1992," Everett says.
Their small café at the junction of highways 2 and 148 on the north side of Bedford struggled and lost money the first year. "We broke even the second year, then made money the third, and things have been going well after that," Everett says.
Their success is due in no small part to strawberry shortcake. "We sold our first large strawberry shortcake heaped with soft serve ice cream on Memorial Day in 1993––sold 72 of them that day," Betty says.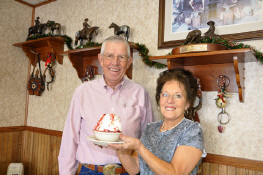 HEAPIN' SHORTCAKE 'N HORSES
Everett and Betty Lee get accolades for both of 'em.
So the two took their strawberry shortcake to the radio airwaves. "KMA radio wanted to test where their listeners were, and we wanted to draw customers from southwest Iowa. So we came up with the idea of announcing a winner of a free strawberry shortcake every day on KMA radio. We did that for three years, and people came from all over to get their free strawberry shortcake," Everett says.
See them coming and going
The couple remembers one farm wife from Harlan, 85 miles away, who drove the distance for that free delicious dessert. They became friends and she made return trips, like many other people have done through the years. "We see local friends and customers every day, but we've also made friends with people from up north who stop by on their way to and from Kansas City, deer hunters who come every year, and friends who come back to the Bedford area for Memorial Day. Those people we see maybe only once a year, but always we look forward to seeing them," Everett says.
That down-home friendliness shows up at the tables in the restaurant, too. "If we're busy, and two people are sitting at a table for four, it's customary here for us to ask the two people waiting and the two already seated if they mind sitting together," Betty says. "Most of the time, they don't mind, and they make new friends."
Home Cookin'
The home-made daily specials always come with real potatoes peeled and mashed fresh each day, and home-made beef or sausage gravy. All sides, like the three bean and pea salads, and fluff salads and bread pudding, are home-made. So are the biscuits and short bread, and a lot of the pies. They grind their coffee fresh, and Betty makes the ham balls––a Sunday noon favorite––and home-made beef or chicken noodles. Her shortcake recipe is the same as it's been from day one.
The patties in the 6-ounce Junction Burger, a crowd favorite, are formed by hand. It's sold with a half pound of French fries on a big toasted bun with pickles, tomato, lettuce, cheese and onion all day long, seven days a week.
I'm full
"We're not stingy with our food, so most of the time we'll hear our customers say they're full. We might make our portions too large, but I want to be sure the hungry working people are satisfied," Everett says. There's a lot of take-home, and some people will order an extra bun and make two sandwiches from the popular breaded and grilled tenderloin sandwiches.

A MOUTH-WATERING FAVORITE
The old-fashioned chicken platter has a breaded chicken breast
and two homemade biscuits under homemade sausage gravy.
Their Friday night fish fry, with Alaskan Pollock, Gulf shrimp, or chicken strips and other fixins' competes with Betty's ham balls at noon on Sundays in drawing people from miles around. The Monday and Tuesday night special, an old-fashioned chicken platter with breaded chicken breast and two homemade biscuits under homemade sausage gravy, is also a draw.
But some people like the spaghetti on Wednesday, and others like Old West night on Thursday.
"I like to eat, and I like to come up with new things to eat. I invent the meal, but don't cook it," Everett says. "And it makes a difference what you call it. We've got a fried bread here we call cowboy bread. It's really Indian bread, but we have more cowboys come in so we call it cowboy bread," he grins.
Everett credits the success of the restaurant to good food and good help. "We have more than 20 employees, and most have been with us for a long time. We have top-notch help here, from cooks to servers. Some who are working here are kids who talked their folks into eating here so they could get a free kid's ice cream cone," Everett says. "That was at a time when a friend told me we were known as a restaurant for old people. So we added 10 new kid's menus, and gave that free ice cream cone away."
The Junction Café has come a long way since Everett and Betty supported the business early on by selling horses and Simmental bulls. "We have a small building out back now with our restaurant freezers and a walk-in cooler," Everett says. "That's a lot handier than back when we had 14 freezers in the basement of our home and I had to bring food to the restaurant every day in the pickup."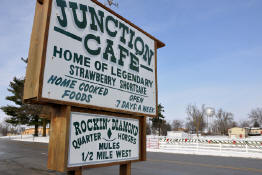 Home cooked food and strawberry shortcake are the calling cards for the Junction Café.
2011 Interview
Click here to read an article from KMA Broadcasting in 2011!
Prices and Menus Subject to Change