Hot Roan Rodder
Congratulations to Justin Moore on his purchase of Hot Roan Rodder!
He will be standing Rodder at stud. Contact him at 712-542-7629.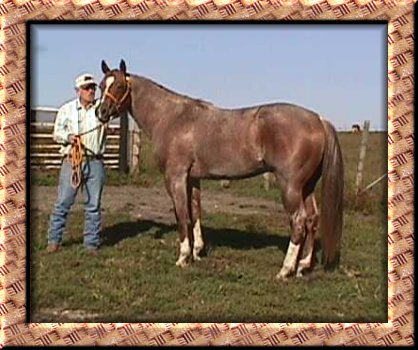 1998 AQHA Stallion
Zippo Pine Bar and Hotrodders Jet Set lines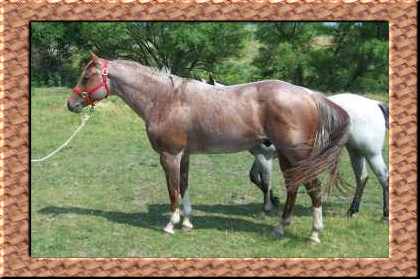 Out to pasture with the gals
This young stallion is producing keen heads and great bodies, as well as the roan color that adds to the eye appeal. Crossing him with our daughters of Mr Gladiator has proven to be a combination that we are very pleased with. This horse is broke and would have easily proven himself in the show ring, based upon his gorgeous way of going and his willing personality. However, his value as our herd sire prevents him from earning points himself. Instead, we will rely upon his offspring!
His full sister, who looks nearly identical to him, has earned two ROM's and many other awards in AQHA shows. See more about her by clicking here.


Hot Roan Rodder was ridden at two for sixty days, and then we recently saddled him up after five years and he acted like he had been ridden all this time. He is so quiet and gentlemanlike...He loves attention. He was ridden in town and along the highways with all the traffic. Never bothered him one bit...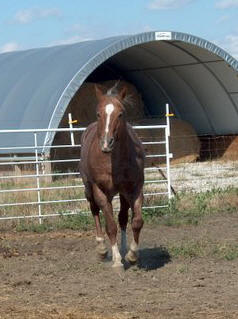 2011 at age 13
Offspring Videos
http://www.youtube.com/watch?v=YYkST1LK3rw
http://www.youtube.com/watch?v=bZuvWcDB8Jc
Hotroddin Zipper
Sire of multiple AQHA, APHA, IBHA, and ApHC point earners and futurity winners. Stallion Offspring Record, ROM Halter Offspring, ROM Performance Offspring, Performance Point Earners, Halter Point Earners, AQHA Youth Champion. Offspring Record: Total Points Earned: 71.5.
Mr Rusty Zipper
Superior Performance, '89 O WP, ROM Performance, WP, Performance Point Earner, WP, , Total Points Earned: 83.5; Perf Points: 83.5; Stallion Offspring Record: Top Ten World Show Offspring, Superior Performance Offspring, AQHA Reserve High Point Performance Offspring, ROM Performance Offspring, Performance Point Earners, Halter Point Earners, Pleasure Money-earners
Zippo Pine Bar
Superior Performance, 1972 WP, AQHA High Point Performance Horse, 1972 WR, Jr. WR, AQHA Champion, 1972, ROM Performance, '72 O, Performance Point Earner, Halter Point Earner, Hall of Fame, '92 NSBA Inductee; 2000 AQHA Inductee, Total Points Earned: 145; Halter Points: 33; Perf Points: 112; Stallion Offspring Record: World Champion Offspring, Reserve World Champion Offspring, Top Ten World Show Offspring, Superior Halter Offspring, Superior Performance Offspring, AQHA High Point Performance Offspring, AQHA Reserve High Point Performance Offspring, AQHA Champion Offspring, ROM Halter Offspring, ROM Performance Offspring, Performance Point Earners, Halter Point Earners, Pleasure Money-earners, Hall of Fame Offspring, NSBA
Madam Tiffany
Wakeup Alittle Suzie
Hotrodders Jet Set
Top Ten World Show, '83 3rd O Jr. WP; '82 5th O Jr. WP, Superior Performance, '82 O WP, AQHA High Point Performance Horse, '85 O WR, ROM Performance, '82 O, Performance Point Earner, Halter Point Earner
Hall of Fame, '93 NSBA Inductee. Total Points Earned: 161; Halter Points: 11; Perf Points: 150. Stallion Offspring Record: World Champion Offspring, SAH, SB-WP, Jr WP, Jr. WR, Reserve World Champion Offspring, WCH, HSE, Sr. TR, CR, Jr. HD, JR. TR, SB-WP;Top Ten World Show Offspring, Superior Halter Offspring, Superior Performance Offspring, AQHA High Point Performance Offspring, Jr CR, WR, HSE, WHO, SAH, WH, JMP, TR, Sr. TR, AQHA Reserve High Point Performance Offspring, CR, WR, Sr. WR, WP, TR, Sr. TR; AQHA Champion Offspring, NRHA Money-earners, ROM Halter Offspring, ROM Performance Offspring, Performance Point Earners, Halter Point Earners, Pleasure Money-earners
Satin Sheet Suzie
Wilbers Roan
Dam of AQHA ROM earners in halter and performance. AQHA Youth Champion.
Skip Sly Short
Shi Bar Skip
Halter Point Earner, Halter Points: 4; Stallion Offspring Record: Halter Point Earners
Ima Whistlin Dixie
Jeanne's Last
Chubby Poco Dell
Performance Point Earner, Halter Point Earner
Halter Points: 17; Perf Points: 27;
Wood's Jeanne